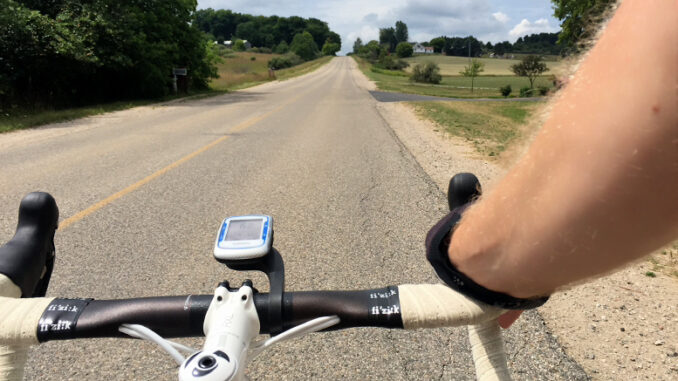 Originally posted October 12, 2012] I bought a road bike three years ago and rode a lot that first year. The last two years I spent a lot of time golfing with Jon. Our trip to Colorado and the hike up Quandary Peak impressed upon me the vital importance of maintaining my fitness as I age.
Sadly, I had been neglecting my health. When we returned from Colorado, I immediately pulled our bikes out of storage in the garage and tuned them up. Cindy and I have been riding nearly every day since. Most days, I ride my road bike alone while Cindy rides her mountain bike on the two tracks around Topinabee.
My road circuit has grown, initially starting at ten miles with one major hill. This week, I've upped my daily circuit to an 18-mile loop around the Bennett Road to Polish Line Road block. With today's Saturday ride left, I am at 110 miles for the week. This included a 37-mile Tuesday ride after my Monday rest day.
To measure my fitness, I have been using a Polar 600x heart rate monitor cycling computer. It a great tool, but I wish they had Mac OS software to download the data and plan my fitness regiment. As it now stands, I have to use Cindy's MacBook Pro, because it's the only computer we have with a reliable Windows installation. I have to reboot her computer using Bootcamp, download the data using Polar's program, then retrieve the data files for use on the app I am using on my MBP. That iSmarttrain app will only allow me to import 20 sessions unless I fork over the $40 for it. It does most of what I want it to, but the graphs of the data from the HRM data cannot switch summaries from metric measurements to English units. The scale on the altitude axis will read in feet, but the summary at the bottom lists total climbing in meters and apparently cannot be adjusted. It's frustrating. I have looked into apps for my iPhone, but I would have to purchase a different HRM band.
My fitness regiment continues. I've lost about 7 pounds, but can already fit into some of my older, narrower waisted shorts. Wish me luck as school starts, and I try to figure out how to fit rides in after work. Winter follows close behind fall, and I am dreading loosing what I've gained. I'll be looking upstairs the garage for my trainer soon.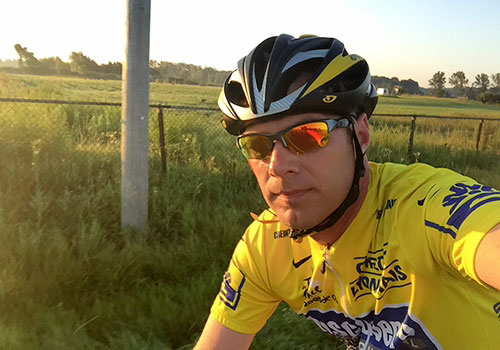 Updates:
[Update: October 6, 2012 – I have continued riding when the weather hasn't been raining or I haven't been working on the siding on our house. This week was the first time I rode six days in a row. My daily route has lengthened, so I will finish this week with 146.8 miles! I weighed myself this morning. I have lost 12 pounds and am down to 217.8 pounds.]
[Update 2: March 28, 2013 – I made it through the winter staying in relatively good shape. The stationary trainer was getting pretty boring, but I endured. I've been outside for the past two days. I weighted myself this morning and was down to 214.2 pounds!
I've signed up to do some road races and a few mountain bike races this summer, so I think my target weight is 205. I've switched to a Garmin Edge 500 cycle computer which I download data to the Garmin Connect website. I also upgraded my wheels to Cycleops Powertap and came to the realization that I need to push harder. ]